I am a bathtub kind of girl. I was as a kid, then for a while I could care less, but now I am totally a fan of a good soak. In our first apartment I was terrified of the bathtub (everyone has that crappy first apartment) but it didn't stop me from taking my baths. In the house we live in now we share the bathroom with our housemate so I haven't had my typical bath time routine. That's why a bathtub is on the list of needs as we look for our new apartment. We saw an apartment a few days ago...no tub, not really even a shower stall since the bottom of the "stall" was flush with the bathroom floor. Since tubs have been on my mind I decided to share with you my favorite "dream" bathtubs/bathrooms. Drumroll please....see if you notice a theme:
First up, for the minimalist inside, this bathroom overall is a stunning and would you look at that tub?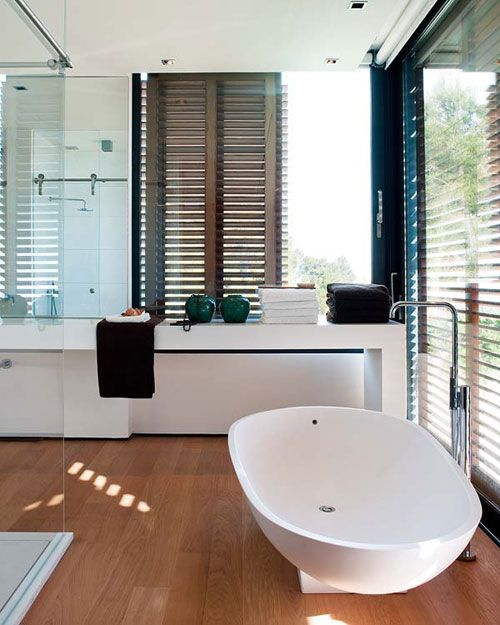 There's nothing like a clawfoot tub.
I absolutely love subway tile (hint - this may be part of the trend that I love) and this built-in tub is breathtaking!
Two words: attic + bathroom. How cool is that, and it's a great use of space.
Oh, to have a bathtub with a ledge, so much room for activities.
[Yupiu]
This one makes me speechless. I don't know if you can even call this a bathtub, it's more like a square pool in your house.
But, if I absolutely had to have a shower stall this would be the one I would want. I mean come on, it has a fireplace inside it!
What do you look for in a bathroom?